Give us this day, January 23, our daily Elvis
1935-1948
Tupelo, Mississippi
1949-1953
Humes High School, Memphis, Tennessee
January 23, 1954
January 23, 1955
Home in Memphis again, there were rehearsals with Elvis, Scotty, Bill and DJ for their upcoming appearance on Stage Show – their first television appearance.
January 23, 1957
Loving You   Movie Production

King Creole Pre-Production – recording the soundtrack, from 8.00 to 11.00 p.m. He also worked on an other movie song and rehearsed 2 songs for an upcoming RCA session.
Elvis wants Leiber and Stoller present at his next session and tells Tom Diskin he is prepared to reschedule if necessary. Tom Diskin informs Steve Sholes in two separate letters dated January 24 and 29 of Elvis' wishes.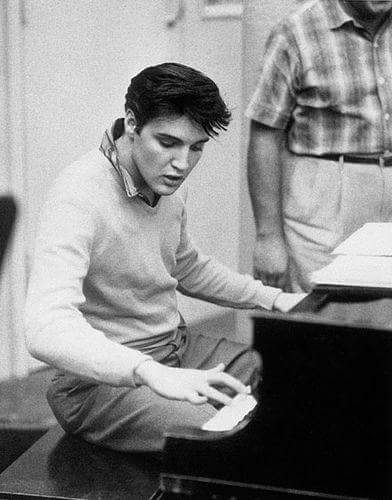 RCA was desperate to get Elvis into the recording studio before he was inducted so RCA could be assured of a steady stream of new releases available during his two year tour of duty.
January 23, 1959
Buddy Holly kicks off the twenty-four date Winter Dance Party at the Million Dollar Ballroom in Milwaukee, backed by Tommy Allsup on guitar, Waylon Jennings on bass and Carl Bunch on drums. Big Bopper and Ritchie Valens as supporting acts on the doomed tour.
Elvis does Military Service in Germany
January 23, 1960
Military Service in Germany
January 23, 1961
Actor/singer Paul Robeson died in Philadelphia. He was the strong-voiced star of numerous films, including Showboat and King Solomon's Mines.
Ben E. King charted with his first solo single, "Spanish Harlem," reaching #15 R&B and #10 pop.
January 23, 1962
January 23, 1964
January 23, 1965
No.2 hit in the UK "Downtown" that Petula Clark recorded in three takes (with the second take ultimately chosen as the completed track), session players in the studio recording included Jimmy Page  hit #1 in the USA.  She was the second UK female singer to have a No.1 on the US singles -Vera Lynn in 1952 was first.
She would go on to rack up many more smashes, including "I Know a Place", "My Love", "I Couldn't Live Without Your Love", "This is My Song" and "Don't Sleep in the Subway". Clark had already been very successful in the UK, chalking up hits since 1954.
January 23, 1966
January 23, 1967
January 23, 1968
January 23, 1969
The American Sound Session, Elvis recorded:
January 23, 1970
January 23, 1971
January 23, 1972
January 23, 1973
 Elvis sent a Telegram of condolence to the recently widowed Lady Bird Johnson, former First Lady.
January 23, 1974
January 23, 1975
January 23, 1976
January 23, 1977
Roots TV Mini Series aired.
January 23, 1984
January 23, 1986
The first annual induction ceremony for the Rock and Roll Hall of Fame in Cleveland was held in New York City.
Michael Jackson's "The Way You Make Me Feel" reached #1, giving its producer, Quincy Jones, the distinction of having the longest time span between #1 singles. He started twenty-five years earlier with Lesley Gore's "It's My Party" in 1963.
1988
Nirvana recorded a 10-song demo with Seattle producer Jack Endino. Sub Pop records boss Jonathan Poneman hears the tape and offers to put out a Nirvana single.
1990
1996
1997
The movie "Spice World" was released in the United States.
2001
An English coroner criticised the rap singer Eminem's lyrics as depressing during an inquest into the death of a schoolboy who threw himself in front of a train. The 17-year old boy had printed out the lyrics to Eminem's track 'Rock Bottom' before his death.
2002
2011
2017
reference sites:
http://www.elvisnews.com
http://www.scottymoore.net/tourdates50s.html
http://www.elvis-in-concert.com/
http:www.keithflynn.com/recording-sessions/
http://www.elvisrecordings.com/  Master and Sessions
The Elvis Presley Record Research Database