Give us this day,  September 11, our daily Elvis
Tupelo, Mississippi
1935-1948
1935-1940
306 Old Satillo Road, Elvis' birthplace, is now 306 Elvis Presley Drive.
, 1938
Vernon Presley in prison  ( May 25 1938 to February 6 1939)
,1939
1940-41
Reese Street, where the Presleys stayed with Vester and Clettes Presley and their daughter Patsy,
1942
Kelly Street, a rented, small apartment.
1943
The Presley family moved to the Mississippi Gulf Coast, May 15 to June 20, Returning to Tupelo.
1944
August 8, 1945 to July 18, 1946
Berry Street -"Doll" Smith lived here with the Presleys and then Minnie Mae Presley moved in.
1946
Commerce Street, a rental
510 1/2 Maple Street, South Tupelo -the Presleys lived with Glady's cousin Frank Richards and his wife, Leona.
1947
Mulbery Alley
Memphis, Tennessee
1948-1953 – Humes High School
Sept. 12, 1948-Sept. 20, 1949
572 Poplar Avenue
Sept 20 1949 to January 7, 1950
185 Winchester Street, a two- bedroom apartment (number 328)
January 7, 1950 to April 1953
398 Cypress Street
September 11, 1952
At Atlantic Records on West 56th St in New York, Ahmet Ertegun begins recording his newest signing, 21 year old Ray Charles, whose contract had been purchased from the Swingtime label for $2,500 last June.
Elvis worked for MARL Metal Products, a furniture manufacturer – He worked the 3:00 PM – 11:00 PM shift as an assembler.
1953
398 Cypress Street (rented from January 7 to April 1953
572 Poplar Avenue
185 Winchester Street, a two- bedroom apartment (number 328)
The Sun Records Rockabilly Era
September 11, 1954
Elvis performed at the Eagle's Nest, Memphis. (not listed on Scotty Moore's site)
| | |
| --- | --- |
| Engagement – Tour Ref: 1954 | |

Info:

Date:

Venue:

Location:

Showtime:

Crowd:

Show type:

Pics:

Ads:

Info

September 11 1954

Eagles Nest

Memphis TN

(9:00 PM)
Elvis worked at Crown Electric,  until mid-October 1954
The Presleys lived at 2414 Lamar Avenue, rented til the end of 1954 to mid-1955
September 11, 1955
Elvis joined the Hank Snow Jamboree for 2 days, and performed at the Municipal Auditorium, Norfolk, Virginia at 3.00 and 8.00 p.m. The other acts were Hank Snow, His Rainbow Ranch Boys and The Louvin Brothers along with Cowboy Copas.
| | |
| --- | --- |
| Engagement – Tour Ref: 1955 | |

Info:

Date:

Venue:

Location:

Showtime:

Crowd:

Show type:

Pics:

Ads:

Info

September 11 1955

Municipal Auditorium

Norfolk VA

(3:00 PM)

Hank Snow All-Star Jamboree

Yes

Info

September 11 1955

Municipal Auditorium

Norfolk VA

(8:00 PM)

Hank Snow All-Star Jamboree

Yes
The Presleys  lived at  1414 Getwell Street rented from mid-1955 to May, 11 1956.
The RCA Victor Atomic Powered Singer
September 11, 1956
Police are called to break up a crowd of rowdy teenagers following the showing of the film Rock Around The Clock at the Trocadero Cinema in London, England. The following day, The Times prints a reader's letter that says in part: "The hypnotic rhythm and the wild gestures have a maddening effect on a rhythm loving age group and the result of its impact is the relaxing of all self control." The film is quickly banned in several English cities.
The Presleys lived at Audobon Drive
September 11, 1957
Jerry Lee Lewis hits the number three position on the US record charts with "Whole Lotta Shakin' Goin' On". The song had already been released by a handful of artists and Jerry Lee had been using it in his live act for several months.

In Cincinnati, Alan Freed's "The Biggest Show of Stars For 1957" concert tour played the Cincinnati Gardens. Performers included Fats Domino, Buddy Holly and the Crickets, Chuck Berry, Paul Anka, Frankie Lymon, Clyde McPhatter, the Everly Brothers, LaVern Baker, the Drifters, Eddie Cochran, the Bobettes, Buddy Knox, Johnnie & Joe, the Spaniels, and Jimmy Bowen.
Elvis went home by train, but in Houston he got out and drove the rest to Memphis. He arrived home at 10.00 p.m.
The Presleys lived at  Graceland
The Military Service Disruption
September 11, 1958
At Atlantic Records studios in New York City, LaVern Baker recorded "I Cried A Tear," featuring saxophonist King Curtis.
At Bell Sound Studio in New York City, Lloyd Price, backed by the Ray Charles Singers, recorded "Stagger Lee."
At the Capitol Tower Studios in Los Angeles, Frank Sinatra recorded "Mr. Success," "Sleep Warm" and "Where Or When."
Poet Robert Service, "Bard of the Klondike,"  (The Shooting of Dan McGrew) died at 84.
Military service at Fort Hood in Texas., for Advanced Tank Training as part of the Second Armored Division. He was stationed there for six months.
The Presleys live in  a rented house off base.
September 11, 1959
The U.S. Congress passed legislation authorizing the creation of food stamps.
Military Service in Germany.
Feb 3 1959 – March 1960: Goethestr.14 in Bad Nauheim, Germany
The Hollywood Decade/The Elvis Establishment
September 11, 1960
Nancy Sinatra married American teen idol Tommy Sands in Las Vegas. The pair would split in 1965.
September 11, 1961
At the Cosimo Recording Studio in New Orleans, Fats Domino recorded "What A Party."
September 11, 1962
The Beatles return to Abbey Road Studios where they record "P.S., I Love You". Producer George Martin is concerned with Ringo Starr's ability and hires session drummer Andy White to re-record "Love Me Do", on which Ringo played maracas and tambourine. The single that was released on October 5th featured a version of 'Love Me Do' with Ringo on drums, but the album 'Please Please Me' included a version with Andy White on drums. It remained a sore spot with Ringo for many years.
It Happened at the World's Fair  Production: September 4-13 in Seattle
September 11, 1963
An unauthorized two-disc set of Bob Dylan songs, called "The Great White Wonder" first appears in a Los Angeles record store. It's believed to be the first commercial release of a bootleg album.
Elvis completed his part for Viva Las Vegas and returned to Memphis.
September 11, 1964
The London Evening News reported that a 16 year-old Eltham Collage boy, introduced as Laurie Yarham, was everyone's idea of a winner in a Mick Jagger look-a-like competition. Laurie looked like Mick Jagger and seemed to know his every action and the audience at Greenwich Town Hall were delighted, until the winner turned out to be Mick's younger brother Chris Jagger.
September 11, 1965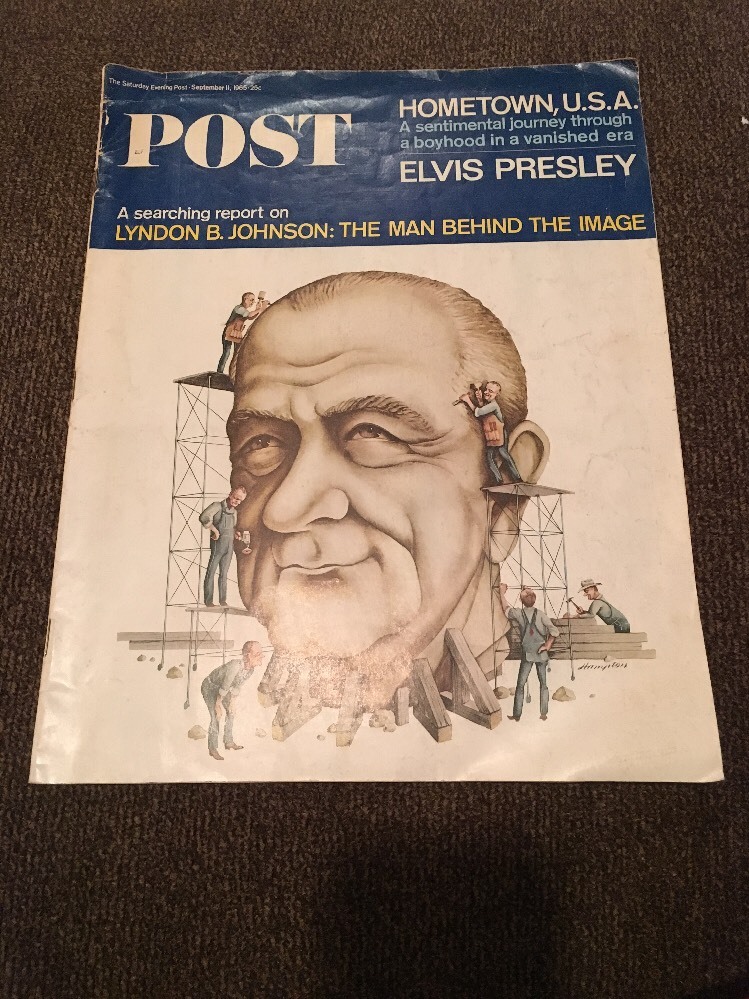 The Beatles started a nine-week run at No.1 on the US album chart with 'Help!', the group's sixth US chart topper.
September 11, 1966
The Beatles receive a Gold record for the single, "Yellow Submarine".
September 11, 1967
The Beatles' "All You Need Is Love" is certified as a million-seller. The boys also begin filming the movie, Magical Mystery Tour. The idea was to cruise the English countryside in a bus "just to see what would happen." Unfortunately, nothing did and the film was a disaster, receiving scathing reviews and condemned as The Beatles' first failure. The Evening News TV critic may have summed it up best when he wrote "There was precious little magic and the only mystery was how the BBC came to buy it."
At the recording session Elvis took over the piano part in You'll Never Walk Alone. They worked from 6.00 p.m. till 3.30 a.m.
September 11, 1968
"Variety" announced that the bordello scene from the 1968 TV Special "Elvis" had been cut. It was cited that the scene had passed NBC censors but the sponsor singer had requested that it be removed.
Elvis spent most of September in Palm Springs.
September 11, 1969
The Vegas Artist in Residence and Tour Decade
September 11, 1970
Donny Osmond's version of "Go Away Little Girl" hits number one in the US. The song was also a chart topper for Steve Lawrence in 1963 and reached #12 for The Happenings in 1966.
The Jackson 5 Saturday morning cartoon show debuts on ABC-TV. The show features the voices of the five brothers.
Jimi Hendrix gives his final interview in his suite at the Cumberland Hotel in London, where he talked with Keith Altham, a journalist for the British weekly music newspaper Record Mirror. During their dialogue the guitarist confirmed that his bassist, Billy Cox, was leaving the band due to exhaustion, a condition that Hendrix himself was suffering.
Elvis performed at the Olympia Arena, Detroit, Michigan.
Date:

11 Sep 1970

Time:

8.30pm

Venue:

Detroit, MI.
Olympia

Tickets:

16,000

Costume:

White Chain Suit

Track list:

Opening Theme
That's All Right
I Got A Woman – Amen
I Walk The Line

just an excerpt


Love Me Tender
I've Lost You
You've Lost That Lovin' Feelin'
Polk Salad Annie/Release Me/Polk Salad Annie
band introductions: Johnny B. Goode featuring James Burton
The Wonder Of You

Detroit City (just an excerpt )


Heartbreak Hotel


Blue Suede Shoes/Whole Lotta Shakin Goin On/All Shook Up/Blue Suede Shoes


Hound Dog
Bridge Over Troubled Water
Suspicious Minds
Funny How Time Slips Away
Can't Help Falling In Love

Recordings:
The whole gang had their own things to attend:
Charlie Hodge remained stage manager and general assistant to Elvis, providing him with water and scarves.
Lamar Fike was taking care of the lighting. Sonny West responsible for the security and Richard Davis controlled the wardrobe. Dr. Nichopoulos was tour doctor and Joe Esposito remained in overall command. The Colonel always arrived before Elvis in each city.
Signing autographs in Detroit on September 11, 1970
Screaming Fans Tell Elvis They're Still His By A.L. McClain Detroit News
Elvis Rocks And 17,000 Roar By Tom DeLisle Detroit News
| | |
| --- | --- |
| Engagement – Tour Ref: On Tour number 2 – September 9th – September 14th 1970 | |

Info:

Date:

Venue:

Location:

Showtime:

Crowd:

Suit:

Belt:

Musicians:

Pics:

CD:

CDR:

Info

September 11 1970

Olympia Stadium

Detroit MI

(8:30 pm)

16000

Chain

Red Macrame belt

Black Suit

Yes

Yes
September 11, 1971
The animated Jackson Five series premiered on ABC-TV in the US.
Donny Osmond started a three week run at No.1 on the US singles chart with 'Go Away Little Girl'. The singers only US solo chart topper. The song had also been a No.1 for Steve Lawrence in 1963.
The Elvis Presley boxed compilation "World Wide Gold Award Hits, Vol. 2" hit #120 in the U.S.
a 4 LP set, which included a poster of elvis and a swatch of cloth from his personal clothing and movie costumes he'd kept.
September 11, 1972
September 11, 1973
Elvis stayed in Las Vegas. While working out karate with Kang Rhee, Elvis ruined some hotel furniture and even broke his finger on his left hand. During this stay there, Elvis held rehearsals with Voice, a group he'd put together to give to Tom Jones and ended up using himself.
September 11, 1974
Elvis and Sheila Ryan spent 5 days (Sept 9 – 13) in Palm Springs together before Elvis had to leave for Memphis.
September 11, 1975
Janis Ian is awarded her first Gold record for the album "Between The Lines". The LP contains her biographical single "At Seventeen", which was still climbing the charts and will peak in the US at number three.
September 11, 1976
Back in Memphis after his tour, Elvis was seen riding his motorcycle. By now there were rumors that Red and Sonny West and Dave Hebler were writing a book about their lives with Elvis.
The Wake and Aftermath
1977
David Bowie and Bing Crosby filmed a duet version of "Peace On Earth/Little Drummer Boy" for what turned out to be Crosby's last television Christmas special. The recording of the song first appeared on Crosby's "Merrie Olde Christmas" album. Released as a single, it has become a perennial holiday favorite.
1982 Elvis Presley Enterprises/Graceland Tourism
1982
John "Cougar" Mellencamp became the only male artist to have two singles in the US Top Ten as well as the No.1 album. 'Jack and Diane' was No.4, while 'Hurts So Good' was at No.8. His album 'American Fool' was at No.1 for the first of nine weeks.
"Valley Girl" by Frank Zappa and his 14-year old daughter Moon Unit, peaks at #32 on the US singles chart. Moon Unit supplied much of the content, speaking typical "Valley Girl" phrases.
1984 Actor ExWife: Priscilla Presley
1987
Canadian born actor Lorne Green, whose spoken word recording of "Ringo" went to #1 on Billboard's Hot 100 in 1964, passed away at the age of 72.
Level 42's 'It's Over', became the first CD video single to go on sale in the UK. It contained twenty minutes of music and five minutes of video (which remained unseen until CDV players went on sale).
Elton John's "Greatest Hits Volume 3" was released.
1988
Michael Jackson appeared at Aintree Racecourse in Liverpool, England on his Bad World Tour. Over 3,000 fans were treated by the St. John Ambulance service for passing out, hysteria and being crushed amongst the crowd of 125,000 fans, the largest concert of the 123-date world tour.
1993
Mariah Carey started a eight week run at No.1 on the US singles chart with 'Dreamlover'. Also on the same day her fourth album 'Music Box' went to No.1 in the UK.
1996
David Bowie's single "Telling Lies" was released exclusively on the Internet, the first time a new single by a major artist was released exclusively online.
2000
The Elvis Presley movie "Viva Las Vegas" was released on DVD.
2001
9/11
Walking to work in New York (as an comic book illustrator) Gerard Way witnessed the 9/11 attacks on the World Trade Centre. The day's events inspired him to start a band, which became My Chemical Romance with Way becoming their lead singer.
Olivia Newton-John released the compilation album "Magic: The Very Best Of Olivia Newton-John."
The Elvis Presley CD compilation album "The 50 Greatest Love Songs" was released.
2002
James Brown's daughters filed a federal lawsuit against their Dad, claiming he withheld royalties for 25 songs that they helped him to write. Deanna Brown Thomas and Dr. Yamma Brown Luma said that a family feud has kept James from sharing royalties for songs that include "Get Up Offa That Thing", a hit in 1976, when they were three and six years old. The lawsuit alleged that the singer has held a grudge against his daughters since at least 1998, when Deanna had her father committed to a psychiatric hospital to be treated for addiction to painkillers. After his release, Brown "vowed to the media that his daughters will never get a dime from him," the lawsuit said. "James Brown has kept his word.
2003 Recording Artist: Daughter Lisa Marie Presley
2006
A study from the University of Leicester found that more than a quarter of classical music fans had tried cannabis. Researchers were trying to find out what people's taste in music revealed about their lifestyles. The UK study also revealed that blues buffs are the most likely to have received a driving penalty. Hip hop and dance music fans were more likely to have multiple sex partners and were among the biggest drug-takers surveyed. More than 2,500 people were interviewed for the study, which was published in the scientific journal Psychology of Music.
2010 Actor: Granddaughter Riley Keough
2011
The Beatles album "1" re-appeared in the UK Top Ten chart when it rose to #6 on the strength of sales of over 23,000 copies. Overall, "1" has sold 30 million physical copies since its 2000 release, according to EMI, and is the bestselling album in the world over the past decade.
87-year-old Doris Day became the oldest female artist ever to hit the U.K. Top Ten with an album of newly-released material when "My Heart" debuted at #9.
2015
The Jackson 5's 1970s hit, "ABC" topped the UK singles chart after it was mixed with a different beat by a British DJ. The original version had topped out at #8 in England.
Mark Ronson's hit 'Uptown Funk!' became the fifth biggest-selling single in British chart history with over two million UK sales and overtaking Paul McCartney & Wings' 1977 chart-topper 'Mull Of Kintrye/Girls' School'.
More Daily Elvis!
Give us This Day, Our Daily Elvis for
Previous Day's Daily Elvis
Next Day's Daily Elvis
Reference Sites:
http://www.scottymoore.net/tourdates50s.html
http://www.elvis-in-concert.com/
http:www.keithflynn.com/recording-sessions/
http://www.elvisrecordings.com/  Master and Sessions
The Elvis Presley Record Research Database