Give us this day, April 8, our daily Elvis
1935-1948
Tupelo, Mississippi
1949-1953
Humes High School, Memphis, Tennessee
1954
Elvis performed at the B&B Club, Gobler, Missouri along with Onie Wheeler and Jimmy Haggett & Band
This was the first day of a new tour featuring Faron Young, Wanda Jackson and Jimmy and Johnny.
Elvis returned home to Audubon Drive.
1958
Military service
1959
Military Service
1960
RCA releases "Elvis is Back" a rock n roll jazz infused blues LP with a couple of ballads.
In stereo and monaural versions, the album reached number two on Billboard's Top LP's and topped the UK Albums Chart.[36]Despite this, its commercial performance was a disappointment, with fewer than 300,000 copies sold in the United States –  it was outsold by the GI Blues Soundtrack that Elvis hadn't wanted released.
A gatefold cover for the single LP offered fans a photo album of Army Elvis.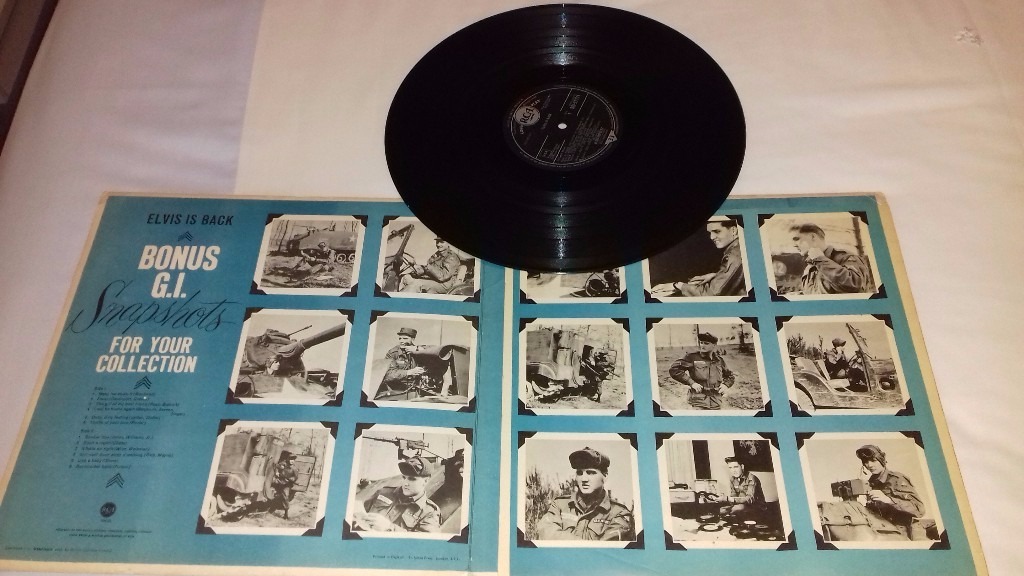 Elvis Is Back! topped the UK Albums Chart and reached number two in Billboard's Top LP's. Initially, the release received mixed reviews, but over subsequent years its critical reception became progressively more positive. The album was certified Gold by the Recording Industry Association of America in 1999.
In Memphis, Elvis buys a diamond necklace for Anita Wood.
1961
1962
Elvis in Hawaii, filming Girls! Girls! Girls!
1963
1964
1965
The Elvis Presley movie "Frankie And Johnny" opened at the Victoria Theatre in London.
1967
Lesley Gore performed "California Nights" on "American Bandstand."
1969
1970
1971
Col Parker and Elvis
Meanwhile, former Beatle, Paul McCartney's new band – Wings released "Give Ireland Back To The Irish". The song was banned by the BBC and IBA.
| | |
| --- | --- |
| Engagement – Tour Ref: On Tour number 5 – April 5th – April 19th 1972 | |

Info:

Date:

Venue:

Location:

Showtime:

Crowd:

Suit:

Belt:

Musicians:

Pics:

CD:

CDR:

Info

April 8 1972

UOT Stokely Arena

Knoxville TN

(2:30 pm)

10500

1971 Snowflake

Original belt

Black Suit

Yes

Info

April 8 1972

UOT Stokely Arena

Knoxville TN

(8:30 pm)

13300

Blue Nail

White Fireworks suit belt

Yes
Accompanied by Linda and some friends Elvis flew to San Francisco, to attend Ed Parker's California Karate Championships. There he discovered the unauthorized use of his name both in promotion and on the marquee and flew back to Los Angeles again, very disappointed about this exploitation by friends.
1974
1975
1976
April 8, 1977
At Graceland, Elvis rides his 3 wheel motorbike with Lisa Marie behind him and Ginger Alden
1978
Elvis Presley's album "He Walks Beside Me" hit #37 in the U.K.
1980
Elvis Presley's grandmother, Minnie Mae "Dodger" Presley, died.
1994
2013
2017
LEO Sayer is a little b*****d. Now, it's easy to imagine what you're thinking: that is a bit of a harsh statement. After all, we're talking about the nice fella from West …
reference sites:
http://www.elvisnews.com
http://www.scottymoore.net/tourdates50s.html
http://www.elvis-in-concert.com/
http:www.keithflynn.com/recording-sessions/
http://www.elvisrecordings.com/  Master and Sessions