Give us this day, January 23, our daily Elvis
Tupelo, Mississippi
1935-1948
1935-1940
306 Old Satillo Road, Elvis' birthplace, is now 306 Elvis Presley Drive.
, 1938
Vernon Presley  spent six months in custody awaiting trial Jan 4 – (minus 6 months until)
.in prison ( May 25 1938 to February 6 1939)
,1939
1940-41
Reese Street, where the Presleys stayed with Vester and Clettes Presley and their daughter Patsy,
1942
Kelly Street, a rented, small apartment.
1943
1944
August 8, 1945 to July 18, 1946
Berry Street -"Doll" Smith lived here with the Presleys and then Minnie Mae Presley moved in.
1946
Commerce Street, a rental
510 1/2 Maple Street, South Tupelo -the Presleys lived with Glady's cousin Frank Richards and his wife, Leona.
1947
Mulbery Alley
Memphis, Tennessee
1948-1953
Sept. 12, 1948-Sept. 20, 1949
572 Poplar Avenue
Sept 2o 1949 to January 7, 1950
185 Winchester Street, a two- bedroom apartment (number 328)
January 7, 1950 to April 1953
398 Cypress Street
The Sun Records Rockabilly Era

January 23, 1954
September 21, 1953 to March 19, 1954
Elvis worked at Precision Tool company, operating a drill press for $1.55 a hour.
The Presleys lived at 2414 Lamar Avenue, rented end of 1954 to mid-1955
January 23, 1955
January 23, 1957
The movie Don't Knock the Rock, starring Bill Haley & the Comets and Little Richard, premiered in Australia.  Haley & his group, who were touring in Australia, attended the opening.  The movie had premiered in New York City on December 12.
Loving You   Movie Production

The Presleys lived at Graceland
In Cincinnati, the Everly Brothers played Cincinnati Gardens with supporting acts Buddy Holly and the Crickets, Jimmie Rodgers, Danny & The Juniors, the Rays, Paul Anka, the Royal Teens,the Tune Weavers, Margie Rayburn, the Shepherd Sisters, Eddie Cochran, and the Hollywood Flames.
King Creole Pre-Production – recording the soundtrack, from 8.00 to 11.00 p.m. He also worked on an other movie song and rehearsed 2 songs for an upcoming RCA session.
Elvis wants Leiber and Stoller present at his next session and tells Tom Diskin he is prepared to reschedule if necessary. Tom Diskin informs Steve Sholes in two separate letters dated January 24 and 29 of Elvis' wishes.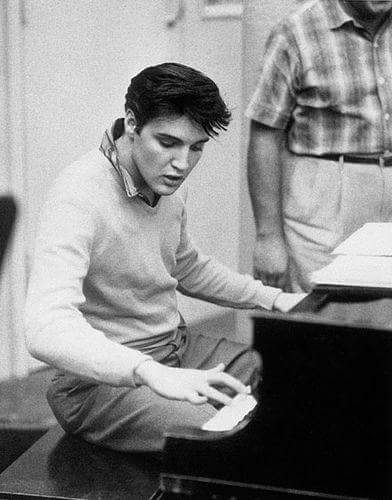 RCA was desperate to get Elvis into the recording studio before he was inducted so RCA could be assured of a steady stream of new releases available during his two year tour of duty.
The Military Service Disruption
January 23, 1959
Buddy Holly kicks off the twenty-four date Winter Dance Party at the Million Dollar Ballroom in Milwaukee, backed by Tommy Allsup on guitar, Waylon Jennings on bass and Carl Bunch on drums. The Big Bopper and Ritchie Valens as supporting acts on the doomed tour.
Military Service in Germany
October 1958 to February 2, 1959: Hotel Grunwald in Bad Nauheim, Germany
January 23, 1960
Military Service in Germany
Feb 3 – March 1960: Goethestr.14 in Bad Nauheim, Germany
The Hollywood Decade/The Elvis Establishment
January 23, 1961
Actor/singer Paul Robeson died in Philadelphia. He was the strong-voiced star of numerous films, including Showboat and King Solomon's Mines.
Ben E. King charted with his first solo single, "Spanish Harlem," reaching #15 R&B and #10 pop.
Connie Francis'  "Where the Boys Are" moved from 90 to 42.
For the third week, Bert Kaempfert held down the #1 song with "Wonderland By Night".  Ferrante & Teicher's excellent "Exodus" was second with another instrumental, "Calcutta" from Lawrence Welk close behind.  The Shirelles remained fourth with the song written by Stanley, Idaho's Carole King–"Will You Love Me Tomorrow".  The rest of the Top 10:  "Angel Baby" from Rosie & the Originals, Elvis Presley's former #1 smash "Are You Lonesome Tonight?", the Miracles flew from 12 to 7 with "Shop Around", Neil Sedaka was up six (14-8) with "Calendar Girl", Bobby Vee's "Rubber Ball" bounded downstairs and Ray Peterson had #10 with "Corinna, Corinna".
January 23, 1962
January 23, 1964
January 23, 1965
No.2 hit in the UK "Downtown" that Petula Clark recorded in three takes (with the second take ultimately chosen as the completed track), session players in the studio recording included Jimmy Page  hit #1 in the USA.  She was the second UK female singer to have a No.1 on the US singles -Vera Lynn in 1952 was first. She would go on to rack up many more smashes, including "I Know a Place", "My Love", "I Couldn't Live Without Your Love", "This is My Song" and "Don't Sleep in the Subway". Clark had already been very successful in the UK, chalking up hits since 1954.
Herman's Hermits released the single "Can't You Hear My Heartbeat".
Petula Clark sped "Downtown" and it reached #1, holding off "You've Lost That Lovin' Feeling" by the Righteous Brothers.  The Searchers were at #3 with "Love Potion Number Nine".  The fastest-rising song within the Top 10 was "The Name Game" from Shirley Ellis.
Beatles '65 was #1 on the Album chart for a third week with Where Did Our Love Go by the Supremes second once again.  Soundtracks dominated the Top 10 with "Mary Poppins" #3, "A Hard Day's Night" by the Beatles #5, "My Fair Lady" moving up to #6 and the "Roustabout" Soundtrack from Elvis Presley #8.
January 23, 1966
Stevie Wonder appeared at the Cavern Club in Liverpool, England.
January 23, 1967
Johnny Rivers released the single "Baby I Need Your Lovin'".
January 23, 1968
January 23, 1969
Alan Parsons engineered his first session (as the 2nd Engineer to Glyn Johns) with the Beatles as the group recorded "Get Back".
The American Sound Session, Elvis recorded:
January 23, 1970
January 23, 1971
Bobby Goldsboro placed "Watching Scotty Grow" at #1 on the Adult chart for a third week.
Gladys Knight & the Pips reached #1 on the R&B chart with their great song "If I Were Your Woman".
January 23, 1972
January 23, 1973
 Elvis sent a Telegram of condolence to the recently widowed Lady Bird Johnson, former First Lady.
January 23, 1974
January 23, 1975
January 23, 1976
January 23, 1977
Roots TV Mini Series aired.
January 23, 1984
 Kenny Loggins released the single "Footloose".
Michael Jackson released the single "Thriller".
Five songs from elvis' hayride performances were announced for release.
January 23, 1986
The first annual induction ceremony for the Rock and Roll Hall of Fame in Cleveland was held in New York City.
Michael Jackson's "The Way You Make Me Feel" reached #1, giving its producer, Quincy Jones, the distinction of having the longest time span between #1 singles. He started twenty-five years earlier with Lesley Gore's "It's My Party" in 1963.
1988
Nirvana recorded a 10-song demo with Seattle producer Jack Endino. Sub Pop records boss Jonathan Poneman hears the tape and offers to put out a Nirvana single.
1989
James Brown was sentenced to six years and six months in jail in connection with the police chase through two states.
1990
1993
1995
William Horton of the Philadelphia vocal group, The Silhouettes, died at the age of 65. The group topped the Billboard chart in 1958 with "Get A Job".
Courtney Love appeared in Australian court on charges of abusing a flight attendant. She admitted to responding with an obscenity when a Quantas flight attendant told her to take her feet down from the airplane cabin wall. Love's sentence was one month of good behavior.
1996
1997
The Spice Girls'  movie "Spice World" was released in the United States.
1998
George Harrison, Garth Brooks, Wynonna, and Ricky Skaggs performed at a memorial service for Carl Perkins in his hometown, Jackson, Tennessee. Perkins had died four days earlier after suffering three strokes.
Johnny Funches, who wrote and sang lead on The Dells' 1956 million seller, "Oh What A Night", passed away at the age of 62.
2001
An English coroner criticised the rap singer Eminem's lyrics as depressing during an inquest into the death of a schoolboy who threw himself in front of a train. The 17-year old boy had printed out the lyrics to Eminem's track 'Rock Bottom' before his death.
Jonathan King ("Everyone's Gone To The Moon") was arrested and charged with eleven more offenses of sexually abusing children. No November 24, King was charged with three crimes.  The charges dated back to the 1970's as more people came forward.
2002
 Virgin Records announced a contract buy-out of $50 million to end their association with singer Mariah Carey, with whom they'd had an unprecedented $100 million five-album deal that became tainted by poor record sales and negative publicity regarding the singer's troubled personal life. Later that year, she signed a contract valued at more than $24 million with Island Records.
2011
2015
2017
 2018
2020