Give us this day, December 23, our daily Elvis
Tupelo, Mississippi
1935-1940
306 Old Satillo Road, Elvis' birthplace, is now 306 Elvis Presley Drive.
December 23, 1937
Vernon in prison

December 23, 1938
Vernon in prison
1940-41
Reese Street, where the Presleys stayed with Vester and Clettes Presley and their daughter Patsy,
1942
Kelly Street, a rented, small apartment.
December 23, 1945
Berry Street – "Doll" Smith lived here with the Presleys and then Minnie Mae Presley moved in.
1946
Commerce Street, a rental
510 1/2 Maple Street, South Tupelo -the Presleys lived with Glady's cousin Frank Richards and his wife, Leona.
Mulbery Alley
1010 North Green Street, in the Shakerag section of Tupelo..
Memphis, Tennessee
1949-1953
Humes High School, Memphis, Tennessee
572 Poplar Avenue
185 Winchester Street, a two- bedroom apartment (number 328)
end of 1954 to mid-1955
2414 Lamar Avenue, rented
mid-1955 to May, 11 1956
1414 Getwell Street
The Sun Records Rockabilly Era
Elvis, Scotty and Bill were stopped for speeding on their way home from Shreveport.
Elvis recalled in a interview: " I thought: Here goes my Christmas money for a traffic ticket.. But the officer let us go with a warning. After the officer left, the 3 of us got out of the car and counted our money by the car headlights. The money was mostly in dollar bills, Man, that was the most money I ever had in my pockets at one time! I blew the whole bundle the next day for Christmas presents."
December 23, 1955
The RCA Victor Atomic Powered Singer
December 23, 1956
December 23, 1957
Sam Cooke charted with "Ill Come Running Back to You," his second #1 R&B hit.
The title song to his movie April Love becomes Pat Boone's fifth US number one hit.
The Military Service Disruption
December 23, 1958
Military Service in Germany
December 22, 1959
Military Service in Germany
Chuck Berry was arrested & charged with violating the Mann Act, following his driving a fourteen-year-old Apache Indian across a state line. Berry said she was to be a hat check girl, she was cast as both victim and prostitute. Berry was initially convicted and sentenced to the maximum of five years in jail, and fined $2,000; however, judicial racism resulted in the matter being dropped.
The Hollywood Decade/The Elvis Establishment
The Brooklyn Paramount kicked off its annual Christmas rock 'n' roll shows, which ran through January 3. Among the sixteen acts appearing were Chubby Checker, the Drifters, Bo Diddley, Ray Charles, Little Anthony & the Imperials, the Shirelles, the Coasters, and the Blue Notes.
The Colonel had arranged this was the last day on the set of Wild In The Country for Elvis, before he flew home for the week off.
Hope Lang, Elvis and Parker as Santa
December 23, 1961
Kid Galahad production
December 23, 1962
Priscilla's Graceland Visit
December 23, 1963
December 23, 1964
Brian Wilson of The Beach Boys suffered a breakdown while on a flight from Los Angeles to Houston. Wilson decided to retire from performing live, even though their "Beach Boys Concert" album was number 1 on the LP chart at the time. Glen Campbell became a temporary replacement before Bruce Johnston joined the group.
December 23, 1965
December 23, 1966
BBC-TV broadcast Ready, Steady Go! for the last time after the Musicians Union enforces a ban on miming. The weekly program was the UK's most popular Pop music television show, helping many of Britain's finest musical acts get their start. The special guests for the farewell show are Mick Jagger, The Who, Eric Burdon, The Spencer Davis Group, Donovan and Dave Dee, Dozy, Beaky, Mick and Tich.
December 23, 1967
December 23, 1968
December 23, 1969
The Vegas Artist in Residence and Tour Decade
December 23, 1970
December 23, 1971
Elvis rented a movie theatre and watched Shampoo and Soul Soldier.
December 23, 1972
Little Jimmy Osmond started a five week run at the top of the UK singles chart with "Long Haired Lover From Liverpool". At nine years of age, he was the youngest person to have a UK #1 record.
December 23, 1973
Elvis flew back to Memphis with Linda and Lisa Marie.
December 23, 1975
December 23, 1976
The Wake and Aftermath
1991
British TV's BBC2 aired Christmas in Vienna, a special featuring Diana Ross and Placido Domingo, from the Vienna City Hall.
1998
Cissy Houston, Roberta Flack, and Phoebe Snow backed Darlene Love as she did her yearly rendition of the immortal Phil Spector record "Christmas (Baby Plase Come Home)" on David Letterman's CBS-TV show.
2002
Sir Paul McCartney was granted his own coat of arms by the College of Arms, the English heraldic body formed in 1484. The crest features a bird that appears to be holding a guitar in its claw. Four curved emblems resembling beetles' backs reflect his career with John Lennon, George Harrison and Ringo Starr. The motto is "Ecce Cor Meum", Latin for "Behold My Heart", which is the title of an oratorio he composed. McCartney applied for the crest in 1997, the year he was knighted for his contribution to British music and society, but the death of his first wife Linda in 1998 delayed its design and approval.
2009
The Grammy Museum just announced
an upcoming exhibit
of photojournalist Alfred Wertheimer's iconic images of the King called Elvis at 21: Photographs by Alfred Wertheimer,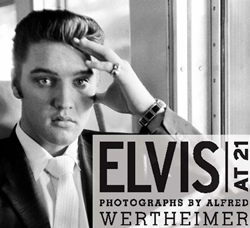 2015
Brenda Lee
's iconic 1960 hit, "Rockin' Around The Christmas Tree" topped the Billboard Country Streaming Chart and the Billboard Holiday Airplay Chart. The song also re-entered the Top 40 of the Billboard Hot 100, giving Little Miss Dynamite her first Top 40 hit since 1967's "Ride, Ride, Ride" which rose to #37 during a two week stay.
Billboard.com
reported that John Lippman, the owner of the legendary mail-order company Columbia House, was interested in reviving the service with vinyl records. According to the Recording Industry Association of America, vinyl sales were up over 50 percent in the first half of 2015.
Paul Anka
became the latest artist to announce that he was pulling out of a planned European tour following the November 13th terror attacks in Paris.