Give us this day, November 30, our daily Elvis
Tupelo, Mississippi
1935-1948
1935-1940
306 Old Satillo Road, Elvis' birthplace, is now 306 Elvis Presley Drive.
, 1938
Vernon in prison
,1939
1940-41
Reese Street, where the Presleys stayed with Vester and Clettes Presley and their daughter Patsy,
1942
Kelly Street, a rented, small apartment.
1943
1944
, 1945
Berry Street -"Doll" Smith lived here with the Presleys and then Minnie Mae Presley moved in.
1946
Commerce Street, a rental
510 1/2 Maple Street, South Tupelo -the Presleys lived with Glady's cousin Frank Richards and his wife, Leona.
1947
Mulbery Alley
Memphis, Tennessee
1948-1953
Elvis attended Humes High School, Memphis, Tennessee
Sept. 12, 1948-Sept. 20, 1949
572 Poplar Avenue
Sept 2o 1949 to January 7, 1950
185 Winchester Street, a two- bedroom apartment (number 328)
January 7, 1950 to April 1953
398 Cypress Street
September 21, 1953 to March 19, 1954
Elvis worked at Precision Tool company, operating a drill press for $1.55 a hour.
end of 1954 to mid-1955
2414 Lamar Avenue, rented
rented from mid-1955 to May, 11 1956.
1414 Getwell Street
The Sun Records Rockabilly Era

November 30, 1954
The RCA Victor Atomic Powered Singer
Accompanied by the Colonel, Elvis flew to New York. They checked in at the Victoria Hotel on 51st street and would be meeting with RCA the next day.
Elvis went to the Crump Memorial Football Game in Memphis. This was a charity event to benefit blind people.
Audobon Drive (May 11 1956 to March 1957)
November 30, 1957
The Military Service Disruption
November 30 1958
US Army Private First Class Elvis Presley at Grafenwoehr Training Grounds, Bavaria
October 1958 to February 2, 1959: Hotel Grunwald in Bad Nauheim, Germany
November 30, 1959
Billboard magazine reports the payola scandal "will substantially damage the careers of at least twenty-five DJs." Alan Freed is quoted as saying that his career has gone "down the drain."
Military Service in Germany
Feb 3 – March 1960: Goethestr.14 in Bad Nauheim, Germany
The Hollywood Decade/The Elvis Establishment
November 30, 1960
Jackie Wilson's "Talk That Talk" charted, reaching #3 R&B and #34 pop.
Wild in the Country Production.
November 30, 1961
Kid Galahad  October 23, 1961 until December 20, 1961
November 30, 1962
The Elvis Presley film "Kid Galahad" premiered in the U.K.
November 30, 1963
The Beatles second album With The Beatles became the first million selling album by a group in the UK. The album stayed at the top of the charts for 21 weeks, displacing Please Please Me, so that The Beatles occupied the top spot for 51 consecutive weeks.
November 30, 1964
Tickle Me post production
November 30, 1965
November 30, 1966
There was an architect hired to make plans for a nursery at Graceland and some other renovations.
November 30, 1968
Glen Campbell started a five-week run at No.1 on the US album chart with 'Wichita Lineman.'
The Trouble with Girls: Oct – Dec 18
November 30, 1969
The Monkees make their final appearance at a show in Oakland, California. Mike Nesmith announces plans for a new band, while Davy Jones and Mickey Dolenz say they will keep the Monkees act going. It would be fifteen years before the original four would play together live again.
Simon and Garfunkel's first TV special airs, but their sponsor, AT&T, backs out when they learn that the duo plan to show footage of Bobby Kennedy's funeral march and clips of the Vietnam War.
The Vegas Artist in Residence and Tour Decade
November 30, 1970
Elvis gets a new badge for his collection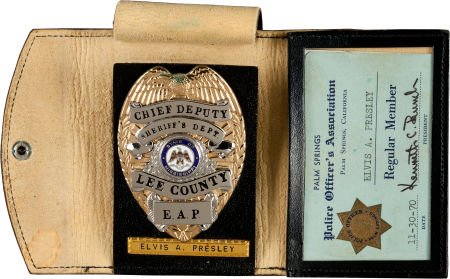 November 30, 1971
Sly And The Family Stone were at No.1 on the US singles chart with 'Family Affair', their fourth and final No.1. Rolling Stone magazine later ranked the song No.138 on their list of the 500 Greatest Songs of All Time.
November 30, 1972
November 30, 1973
November 30, 1974
Former Kris Kristofferson sideman Billy Swan had the best selling record in America with "I Can Help", a song he recorded in just two takes.
For the following 3 days Elvis had rehearsals at noon in the showroom of the Las Vegas Hilton. Ordered by Dr. Nick, Elvis did only one show a night, except for Saturdays.
Elvis performed at the Convention Center, Anaheim, California.
With Linda Thompson gone, Ginger attended the show and according to many Elvis ' performance improved. Later Elvis told Larry Geller he was inspired by the presence of Ginger.
Date:

30 Nov 1976

Time:

8.30pm

Venue:

Anaheim, CA.
Anaheim Convention Center

Tickets:

14,300

Costume:

Indian feather (white) suit

Track list:

Also Sprach Zarathustra
See See Rider
I Got A Woman/Amen
Love Me
If You Love Me
You Gave Me A Mountain
Jailhouse Rock
Teddy Bear/Don't Be Cruel
And I Love You So
Bridge Over Troubled Water
Polk Salad Annie
[band introductions]
Early Morning Rain
What'd I Say
Johnny B. Goode
Love Letters
School Days
Hurt
Hound Dog
Hawaiian Wedding Song
Blue Christmas
That's All Right
Can't Help Falling In Love

Recordings:
| | |
| --- | --- |
| Engagement – Tour Ref: On Tour number 26 – November 24th – November 30th 1976 | |

Info:

Date:

Venue:

Location:

Showtime:

Crowd:

Suit:

Belt:

Musicians:

Pics:

CD:

CDR:

Info

November 30 1976

Anaheim Convention Center

Anaheim CA

(8:30 pm)

8500

Chief

Second belt

Light Blue Suit

Yes

Yes

Yes
The Wake and Aftermath
November 30, 1977
Johnny Cash Christmas Special includes an Elvis tribute: Johnny, Carl Perkins and Johnny Cash with Roy Orbison standing in for Elvis as a quasi million dollar quartet reunion.
1982 Elvis Presley Enterprises/Graceland Tourism
1982
Epic Records released the album "Thriller" by Michael Jackson. It spent 190 weeks on the UK album chart became the biggest selling pop album of all time, with sales over 50 million copies. Seven singles were released from the album, including 'Beat It', which featured guitarists Eddie Van Halen and Steve Lukather and 'Billie Jean'.
1988
LL Cool J performed at the first rap concert in Cote D'Ivoire, in Africa. The Ivory Coast was apparantly not ready for rap, as fights broke out, the stage was attacked, people fainted, and the police ended the performance halfway through the show.
1991
Michael Jackson scored his fourth UK No.1 album with his eighth studio album Dangerous. The album has sold over 32 million copies worldwide making it one of the best selling albums of all time.
Milli Vanilli singer Rob Pilatus attempted suicide while staying at The Mondrain Hotel, Los Angeles by taking an overdose of sleeping pills and slashing his wrists.
1993
The Elvis Presley album "From Nashville To Memphis – The Essential '60s Masters I" was certified gold by the RIAA.
1994
Tupac Shakur was shot five times during a robbery outside a New York City recording studio.
1999
Billboard magazine announced that the Hot 100 chart would now take airplay into consideration as well as sales.
Elton John was blasted by the Boy Scout Association after he appeared on stage at London's Albert Hall performing 'It's A Sin' with six male dancers dressed as Boy Scouts. The dancers had peeled of their uniforms during the performance.
2001
The first Top Of The Pops UK Awards were held in Manchester, with categories voted by viewers of the BBC show. Winners included: Best pop act: Westlife, Best R&B Act: Destiny's Child, Best Rock Act: U2, Best Dance Act: Fatboy Slim, Best Newcomer: Nelly Furtado, Best Single: Kylie Minogue, 'Can't Get You Out Of My Head', Best Album: Travis, 'The Invisible Band', Artist on top of the world: Jennifer Lopez, Hall of Fame Award went to Paul McCartney.
2003 Recording Artist: Daughter Lisa Marie Presley
2005
50 Cent was planning to create a vibrator of his manhood, so his female fans could pretend to have sex with him. The rapper was also planning to sell a line of condoms and waterproof sex toys designed to excite his female fans. The rapper said: "I need to make a 50 Cent condom and motorised version of me, which will have to be waterproof so you can utilise it in the tub, Blue is my favourite colour so it will probably be blue'.
2010 Actor: Granddaughter Riley Keough
2011
A Swedish woman named Lisa Johansen, who for more than two decades has been trying to convince everyone that she's Elvis Presley's real daughter and that Lisa Marie Presley has stolen her identity, filed a lawsuit against the Presley family claiming more than $130 million in damages for defamation and infliction of emotional distress. Johansen gained notoriety after publishing a 1998 memoir entitled, "I, Lisa Marie: The True Story of Elvis Presley's Real Daughter."
Interest in her story faded after she reportedly refused to take a DNA test and her claims of Canada's RCMP being involved in establishing her identity is laughable. Johansen showed up at Graceland in 2015 and left without security becoming involved.
2012
Rihanna was at No.1 on the UK album chart with her seventh studio album Unapologetic. The album produced seven singles including 'Stay', which became Rihanna's twelfth No.1 song, tying her with Madonna and The Supremes for fourth most No.1 songs in the history of the chart.
2016
More Daily Elvis!
Give us This Day, Our Daily Elvis for
Previous Day's Daily Elvis
Next Day's Daily Elvis
Reference Sites:
http://www.scottymoore.net/tourdates50s.html
http://www.elvis-in-concert.com/
http:www.keithflynn.com/recording-sessions/
http://www.elvisrecordings.com/  Master and Sessions
The Elvis Presley Record Research Database