Give us this day, November 30, our daily Elvis
1935-1948
Tupelo, Mississippi
1949-1953
Humes High School, Memphis, Tennessee
November 30, 1954
Accompanied by the Colonel, Elvis flew to New York. They checked in at the Victoria Hotel on 51st street and would be meeting with RCA the next day.
Elvis went to the Crump Memorial Football Game in Memphis. This was a charity event to benefit blind people.
Elvis Presley E.H. Crump Memorial Football Game – November 30, 1956.
November 30, 1957
November 30 1958
US Army Private First Class Elvis Presley at Grafenwoehr Training Grounds, Bavaria
November 30, 1959
Billboard magazine reports the payola scandal "will substantially damage the careers of at least twenty-five DJs." Alan Freed is quoted as saying that his career has gone "down the drain."
Military Service in Germany
November 30, 1960
Jackie Wilson's "Talk That Talk" charted, reaching #3 R&B and #34 pop.
Wild in the Country Production.
November 30, 1961
Kid Galahad  October 23, 1961 until December 20, 1961
November 30, 1962
November 30, 1963
The Beatles second album With The Beatles became the first million selling album by a group in the UK. The album stayed at the top of the charts for 21 weeks, displacing Please Please Me, so that The Beatles occupied the top spot for 51 consecutive weeks.
November 30, 1964
Tickle Me post production
November 30, 1965
November 30, 1966
There was an architect hired to make plans for a nursery at Graceland and some other renovations.
November 30, 1968
Glen Campbell started a five-week run at No.1 on the US album chart with 'Wichita Lineman.'
The Trouble with Girls: Oct – Dec 18
November 30, 1969
The Monkees make their final appearance at a show in Oakland, California. Mike Nesmith announces plans for a new band, while Davy Jones and Mickey Dolenz say they will keep the Monkees act going. It would be fifteen years before the original four would play together live again.
Simon and Garfunkel's first TV special airs, but their sponsor, AT&T, backs out when they learn that the duo plan to show footage of Bobby Kennedy's funeral march and clips of the Vietnam War.
November 30, 1970
Elvis gets a new badge for his collection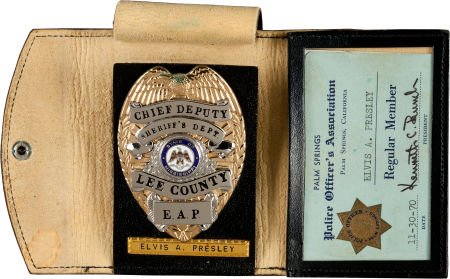 November 30, 1971
November 30, 1972
November 30, 1973
November 30, 1974
Former Kris Kristofferson sideman Billy Swan had the best selling record in America with "I Can Help", a song he recorded in just two takes.
For the following 3 days Elvis had rehearsals at noon in the showroom of the Las Vegas Hilton. Ordered by Dr. Nick, Elvis did only one show a night, except for Saturdays.
Elvis performed at the Convention Center, Anaheim, California.
With Linda Thompson gone, Ginger attended the show and according to many Elvis ' performance improved. Later Elvis told Larry Geller he was inspired by the presence of Ginger.
| | |
| --- | --- |
| Engagement – Tour Ref: On Tour number 26 – November 24th – November 30th 1976 | |

Info:

Date:

Venue:

Location:

Showtime:

Crowd:

Suit:

Belt:

Musicians:

Pics:

CD:

CDR:

Info

November 30 1976

Anaheim Convention Center

Anaheim CA

(8:30 pm)

8500

Chief

Second belt

Light Blue Suit

Yes

Yes

Yes
November 30, 1977
Johnny Cash Christmas Special includes an Elvis tribute: Johnny, Carl Perkins and Johnny Cash with Roy Orbison standing in for Elvis as a quasi million dollar quartet reunion.
1982
Epic Records released the album "Thriller" by Michael Jackson. It spent 190 weeks on the UK album chart became the biggest selling pop album of all time, with sales over 50 million copies. Seven singles were released from the album, including 'Beat It', which featured guitarists Eddie Van Halen and Steve Lukather and 'Billie Jean'.
1988
LL Cool J performed at the first rap concert in Cote D'Ivoire, in Africa. The Ivory Coast was apparantly not ready for rap, as fights broke out, the stage was attacked, people fainted, and the police ended the performance halfway through the show.
1991
Michael Jackson scored his fourth UK No.1 album with his eighth studio album Dangerous. The album has sold over 32 million copies worldwide making it one of the best selling albums of all time.
1999
Billboard magazine announced that the Hot 100 chart would now take airplay into consideration as well as sales.
Elton John was blasted by the Boy Scout Association after he appeared on stage at London's Albert Hall performing 'It's A Sin' with six male dancers dressed as Boy Scouts. The dancers had peeled of their uniforms during the performance.
2011
A Swedish woman named Lisa Johansen, who for more than two decades has been trying to convince everyone that she's Elvis Presley's real daughter and that Lisa Marie Presley has stolen her identity, filed a lawsuit against the Presley family claiming more than $130 million in damages for defamation and infliction of emotional distress. Johansen gained notoriety after publishing a 1998 memoir entitled, "I, Lisa Marie: The True Story of Elvis Presley's Real Daughter." Interest in her story faded after she reportedly refused to take a DNA test and her claims of RCMP being involved in establishing her identity is laughable.
2016