James Dean's car crash almost shelved Giant, his next planned film – based on the book "A stone for Danny Fisher" – would become Elvis Presley's final 1950s film before going into the Military and his best film.
King Creole would re-pair Elvis with Dolores Hart while Carolyn Jones plays the Bad Girl.
The song "Danny" was cut from the film, and not released until RCA's Legendary Performer series.
Except Conway Twitty recorded it and had a 1950s hit song that could have been Elvis'.
Walter Mathau and Vic Morrow play the gangsters who menace New Orleans.
The movie could have been edgier with this The Good Girl said yes unused scene.
King Creole took Elvis into Dixie and Jazz territory, and he continued with Elvis is Back.
Unfortunately the GI Blues lightweight soundtrack outsold Elvis' musical work.
King Creole is my fave Elvis serious movie, and a teeny tiny bit is that it's one where there's a character with the same first name as me.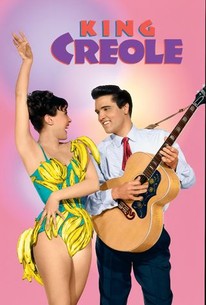 On set visit by Japanese Fan Club: Yumi Shirakawa, Hideko Takamine, Elvis, Yoko Minamida, Misako Uji and Yumiko Hasegawa
related
Elvis Fan Sites further reading: