The latest single, 'I Forgot to Remember to Forget'/'Mystery Train', appears on three of Billboard's national charts, representing country music sales, jukebox, and radio play.
Also on the playbill were:
Home movies by a tourist:
November 5, 1958
Military Service in Germany
October 1958 to February 2, 1959: Hotel Grunwald in Bad Nauheim, Germany
November 5, 1959
Military Service in Germany
Feb 3 – March 1960: Goethestr.14 in Bad Nauheim, Germany
November 5, 1960
 33 year old Johnny Horton, who had a number one hit with "Battle of New Orleans", was killed when his Cadillac was hit by a drunken truck driver in Milano, Texas. Johnny had just played his last show at the Skyline in Austin, where Hank Williams had played his last show as well. Horton's widow, Billy Joe, was also Hanks Williams' widow.
November 5, 1961
Kid Galahad
November 5, 1962
Elvis drove the Movie Truck, which lost it's brakes – he might have died, and that this sorta Iconic one as being his potentially last movie is horrifying to consider – Viva Las Vegas was next and the 1968 special on the horizon.
November 5, 1965
There was an oddity in the career of Elvis Presley: he had recorded an album, Stay Away Joe, that only one copy was pressed of and was to be played only one time, on an Arizona radio station, on November 5, 1967:
November 5, 1968
Trouble with Girls productions
November 5, 1969
November 5, 1970
Date:

05 Nov 1971

Time:

8.30pm

Venue:

Minneapolis, MI.
Metropolitan Sports Center

Tickets:

17,600

Costume:

White 'Red Lionhead' suit

Track list:

2001 Theme
Thats All Right
Love Me Tender
Proud Mary
Bridge Over Troubled Water
Heartbreak Hotel
Blue Suede Shoes
Hound Dog
Johnny B Goode
Tracklisting is incomplete. Taken from reviews

Recordings:

0
| | |
| --- | --- |
| Engagement – Tour Ref: On Tour number 4 – November 5th – November 16th 1971 | |

Info:

Date:

Venue:

Location:

Showtime:

Crowd:

Suit:

Belt:

Musicians:

Pics:

CD:

CDR:

Info

November 5 1971

Metropolitan Sports Center

Minneapolis MN

(8:30 pm)

17600

White Pinwheel

Lion Head belt

Black Suit

Yes
1986
Bobby Nunn, vocalist for The Coasters on their 1958 hit, "Yakety Yak", died of a heart attack at the age of 61.
1988
The Beach Boys had the number one song in the US when "Kokomo", from the movie Cocktail, reached the top. It made #25 in the UK. It had been 22 years since the group had their last US chart topper with "Good Vibrations". 
Whitney Houston held on to the top spot with her seventh #1 on the Adult Contemporary chart–"One Moment In Time".
'The Locomotion', became the first song to reach the US Top 5 in three different versions, when Kylie Minogue's reached No.3 on the US chart. Written by American songwriters Gerry Goffin and Carole King, the song is notable for appearing in the American Top 5 three times – each time in a different decade: for Little Eva in 1962 and for Grand Funk Railroad in 1974.
1989
Chaka Khan began a European tour in Hamburg, West Germany.
1992
Tom Jones was a guest voice on Fox-TV's "The Simpsons."
1995
Queen released Made in Heaven, their last studio album recorded before the death of lead singer Freddy Mercury.
1998
Fats Domino was honored with the National Medal of Arts, which was presented to him by President Clinton at the White House.
2000
 U2 scored another #1 album in the U.K. with All That You Can't Leave Behind.
2002
Billy Guy, who sang baritone on the hits "Searchin'" and "Yakety Yak" as part of the 1950s vocal quartet The Coasters, died in Las Vegas from cardiovascular disease. He was 66.
2003 Recording Artist: Daughter Lisa Marie Presley
2003
Bobby Hatfield of the Righteous Brothers was found dead in his hotel room, apparently from a heart attack, in Kalamazoo, Michigan, where the duo were in concert.  Hatfield was 63.
2005
Link Wray, died at his home in Copenhagen of natural causes at 76. The electric guitar innovator is often credited as the father of the power chord, had invented what became known as the "fuzz guitar" when he punched a hole in a speaker to give his guitar a distorted sound. His 1959 instrumental, "Rumble" was banned by many US radio stations, even thought it had no lyrics what so ever.
2009
Record label EMI filed a copyright violation suit against a US website after a string of Beatles tracks appeared online for download at discounted prices.
2010 Actor: Granddaughter Riley Keough
2015
Canadian Music Week announced that Andy Kim would be one of four inductees to the 2016 Canadian Music Industry Hall of Fame. During his career, Kim recorded nine Billboard Top 40 hits and sold over thirty million records. Andy Kim earned his first Gold Record for a song called "Baby I Love You" in 1968.  Other hit records followed, including "So Good Together" and "Jingle Jangle".Then came the song that shot to the top of the charts in 1969 for 8 weeks, was named Record Of The Year by Billboard Magazine and sold 13 million copies! That record, an Andy Kim signature song was called "Sugar Sugar". Andy Kim has 19 hit singles, 12 in the US , and sold over 30 million records world-wide.
2016
Betty Harper is an artist known for her Elvis Presley drawings.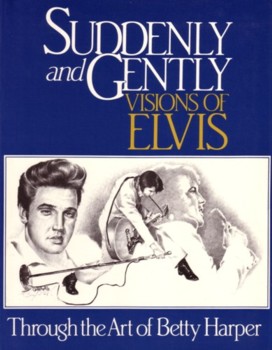 More Daily Elvis!
Give us This Day, Our Daily Elvis for
Previous Day's Daily Elvis
Next Day's Daily Elvis
Reference Sites:
http://www.scottymoore.net/tourdates50s.html
http://www.elvis-in-concert.com/
http:www.keithflynn.com/recording-sessions/
http://www.elvisrecordings.com/  Master and Sessions
The Elvis Presley Record Research Database